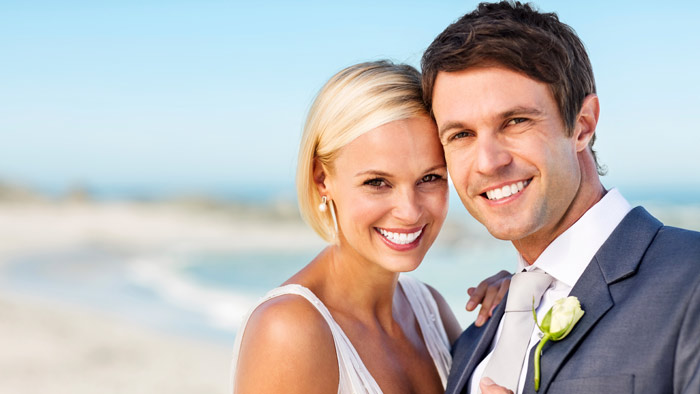 An easy way to erase stains caused by years of enjoying coffee, tea, or wine, is to choose professional teeth whitening from Courtside Dental.
Our Portage, MI, cosmetic dentist can help you brighten your smile by a few shades to achieve the sparkling result you've always wanted. Apply dental-grade teeth whitening gel to customized mouth trays at home or visit our dentist for fast, in-office treatment.
At-Home Teeth Whitening Treatment
For a more gradual process, we offer effective teeth whitening that can be done in the comfort of your own home. To begin, our dentist will provide you with a set of custom-made mouth trays (top and bottom) that are to be used with a safe, but powerful whitening gel.
To ensure you understand how to properly use the trays, our dentist will explain all necessary steps before you take the supplies home with you. When applying the whitening gel to the trays, be sure to only make contact with your teeth, not your gums. Irritation or increased sensitivity can occur otherwise.
The at-home teeth whitening process will take a few weeks and when it is complete, your teeth will be the shade of white you desire.
Opalescence® Boost™ In-Office Whitening Treatment
If you prefer to have your teeth professionally whitened in-office, we offer that as well. At Courtside Dental, our cosmetic dentist uses
, a strong whitening system, to achieve bright white results.
With Boost, there are no hot LED lights used because it is chemically activated. Depending on the severity of your tooth stains and your requested shade, our cosmetic dentist will first apply a protective barrier to your teeth.
This barrier will prevent the whitening gel from irritating your gums. Once that has been applied, the Boost whitening gel can be brushed on. You will then see results in about an hour. A second treatment may be needed but our dentist will discuss this with you.
Choose the Teeth Whitening Option Best for You
At Courtside Dental, our contact us online to make an appointment. You can also call Courtside Dental today at 269.327.1011.
, want you to have beautiful teeth that shine bright. If you're interested in professional teeth whitening either performed in the office or at home,